Data + AI Summit 2020 Europe takes place virtually in just a few days,from 17-19 November – and it's free to attend! Formerly known as Spark + AI Summit, Data + AI Summit will bring together thousands of data teams to learn from practitioners, leaders, innovators and the original creators of Spark, Delta Lake, MLflow and Koalas.
In June, we were able to successfully transform Summit into a completely virtual experience. The Data + AI Summit will be even better with optimised engagement throughout the conference platform, plus hundreds of sessions at your fingertips, anytime and from anywhere. Although the conference schedule is scheduled for  European attendees, all content will be available on demand for our global audience.
We've spent the last two months building a conference that will bring data teams together again with 125+ sessions, an incredible line-up of keynotes and countless opportunities to connect with your peers — more than 20,000 data scientists, data engineers, analysts, business leaders and other data professionals.
Our virtual platform launches on 13 November, but here's a sneak peek at what awaits you. As soon as the platform launches, get a head start by building your agenda and your personal profile to get the most from your conference experience. If you haven't already registered, there's still time! General admission is FREE and content will be available live – and on demand after the event.
Personalised dashboard
As you enter the conference you will be welcomed by your personalised dashboard — a home for everything you need to know about the conference. We have highlighted the most useful links to access content and a quick view of your agenda. The left navigation panel will help you explore every aspect of the Summit. And keep an eye on your inbox for notifications so you don't miss any updates.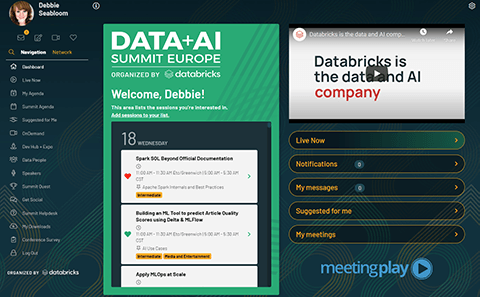 Build your agenda
Our agenda is jam-packed this year with two days filled with technical content for data scientists, engineers, analysts and IT and business leaders. To add sessions to your agenda, simply click on the heart next to the session title.
We have an incredible lineup of keynotes from industry thought leaders such as Ali Ghodsi, Matei Zaharia and Reynold Xin, as well as luminary keynotes from Malcolm Gladwell, Mae Jemison, Dr. Kira Radinsky, Jeremy Singer-Vine and many others. We recommend you take time to play with the agenda filters and explore the speakers' pages to build your ideal agenda.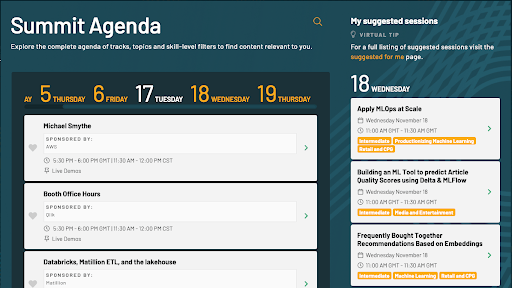 Dev Hub + Expo
Connect with your peers and sponsors at the Dev Hub + Expo! We are making live networking happen at our Hallway Chatter rooms where you can chat live with like-minded attendees or hear a lightning talk from community members. You can also learn more about Delta Lake, Apache Spark™, MLflow, Redash and more at the Databricks Booth, and interact with our amazing sponsors.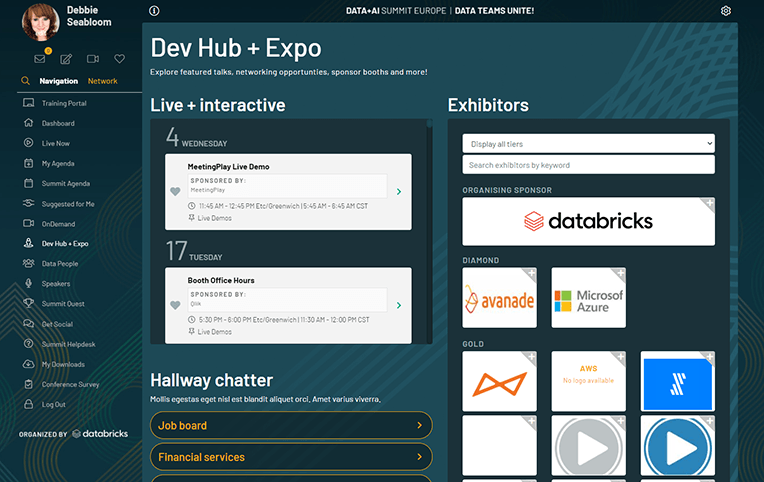 We want to be able to bring people together and connect in a virtual space. We are doing this in many ways throughout the platform. Check out the Data People page for a directory of who's around. You can also go to the Suggested for Me tab to meet like-minded individuals and to discover recommended sessions/experiences.
Summit Quest and evening events
Don't forget to set aside time to do our daily body breaks, get social, and rack up points to hit the top of the Summit Quest leaderboard. The more points you accumulate, the more you have a chance to be one of our Top 50 leaderboard winners for some exclusive Summit merchandise.
Each evening, attendees will be able to 'choose their own adventure' by joining a live DJ set from DJ Kingmost, attend our highly engaging live Meetups or explore everything the Dev Hub + Expo hall has to offer.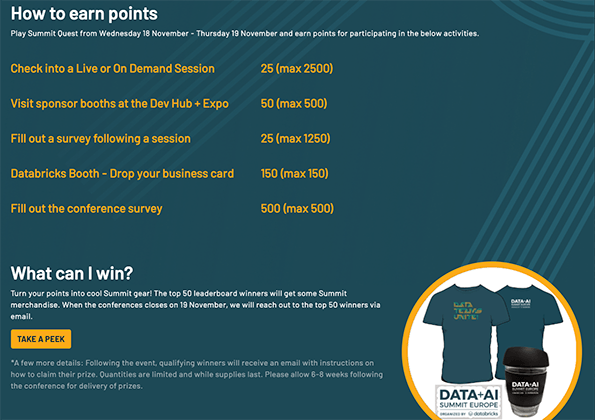 There is so much more that we can share, but now it is your turn to discover what Data + AI Summit Europe has to offer. If you have registered, join the experience on 13 November and check out this guide for even more reasons to get excited. And if you haven't yet registered, it's not too late. Join us for all the action at Data + AI Summit 2020 and we look forward to seeing you there!
—
Try Databricks for free. Get started today.
The post Data Teams Unite! Countdown to Data + AI Summit Europe appeared first on Databricks.
Source: Data Briks